Response to 'An Atlas for a Green New Deal'
By Andres Chang
Volume 23, number 2, A People's Green New Deal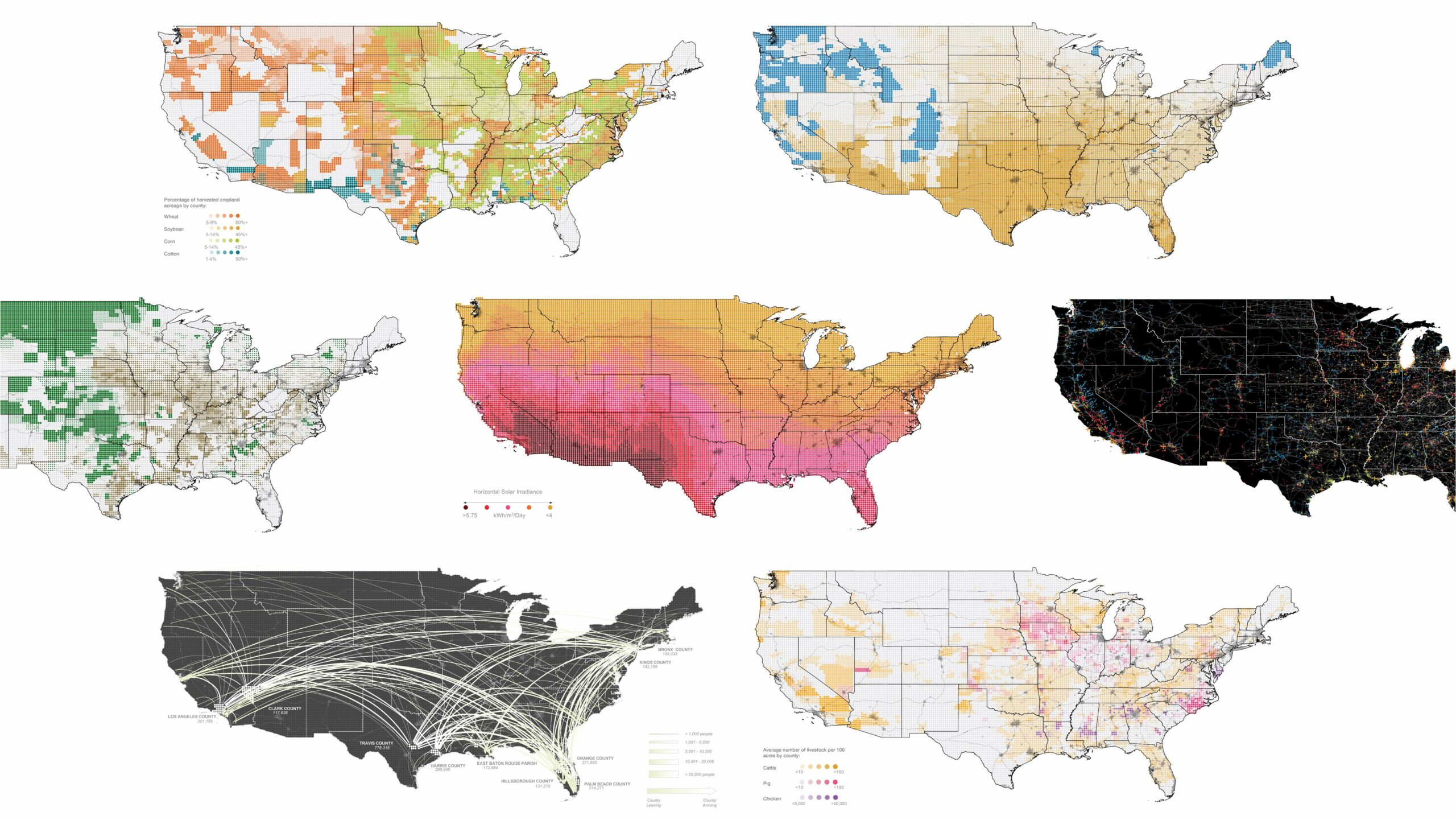 Read more about 'An Atlas for a Green New Deal' in this issue or view the full atlas online.

What is there to learn from Fleming's "Atlas for the Green New Deal"? Maybe that Americans have a taste for beef and that Montana is filling up with wheat. Maybe that windmills will tower above the Great Lakes and that Los Angeles County will be hemmed to the coast by solar arrays. While the first section of the project, "Inventory," sheds light on a variety of human, economic, and environmental dynamics of today, the following sections explore what more than 400 million US inhabitants could face in another eighty years. An uncritical interpretation of these later portraits would equate them to a roadmap, but they actually bear none of that certainty. And that's exactly the point. Rather than plowing forward as if the answers could be determined on the basis of ever-improved computation, Fleming's team has chosen to properly recognize the lived dimension of our society in crisis without detracting from the value of the model as one tool among many needed to construct a more just future. To that end, the Atlas can be understood as a crucial knowledge foundation that will contribute to the development of any effective Green New Deal.
Yet, if the Atlas is a puzzle, the pieces don't quite fit. Patterns of in-migration to regions increasingly reliant on AC at full blast clash with climate goals, "megaregions" like the Arizona Sun Corridor grow in the face of failing agricultural yields. There is insight to be drawn from each map on its own, but even more to be gained from their combination. New questions and tensions arise.
The Atlas can be understood as a crucial knowledge foundation that will contribute to the development of any effective Green New Deal.
It is better to accept the Atlas than to resolve it as an entirety because it is among the gaps and imbrications that living processes thrive. In the words of Andreas Weber, we must not understand our world as "the unfolding of an organic machine, but rather as the natural history of freedom, autonomy and agency."1 From soil productivity to income distribution, the Atlas is chock full of critical information. Crucially, it has been developed as an open access resource and can be leveraged to deepen community participation in decisions that will affect us for generations. As such, the Atlas recognizes that "answers" to our crisis will not arise through the encoding of relationships; they will emerge through people's engagement, improved access to unfinished knowledge, and drawing knowledge from outside the model to reflexively understand what may be seen by peering in.
About the Author
Andres Chang is an artist and a research lead at CDP (formerly Carbon Disclosure Project), where he supports the development of global climate action initiatives and frameworks. In his creative practice, Andres pieces together historical artifacts, familial memories, and scientific research tools in a form of speculative performance. Visit his website at andreschang.com.
References