Clashing Resilience: Competing Agendas for Recovery After the Puerto Rican Hurricanes
By Omar Pérez Figueroa and Bolívar Aponte Rolón
Volume 23, number 1, Science Under Occupation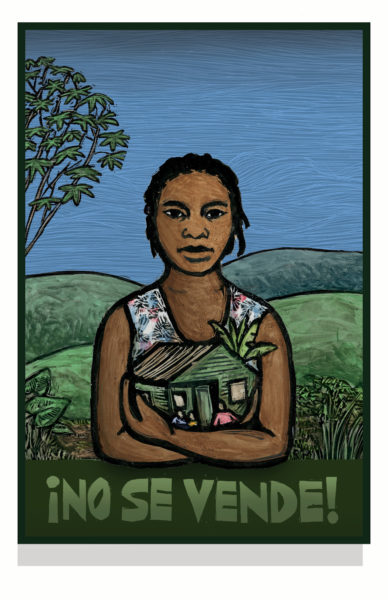 Resilience and the global economy
The Global South has the odds stacked against it in the world economy. Not only have its natural resources and human capital been expropriated by neoliberal forces (i.e., multinational corporations and the governments supporting them), but efforts to resist this expropriation have been dominated by neoliberal ideology─specifically, the idea that society should be shaped by the free market.1 This idea permeates politics, education, and culture, as well as different professional fields, including hazard and disaster mitigation planning. The latter is heavily reliant on the concept of "resilience," even though there is no real consensus about the word's definition.
Often, "resilience" is used to describe the ability of communities to cope with extreme events, such as war, hurricanes, earthquakes, or other disasters out of their control. The concept was originally coined by ecologists in the 1970s, but it did not become prevalent in disaster management and risk reduction circles until 2002 during the World Summit on Sustainable Development in Johannesburg, South Africa. It was defined then by the United Nations International Strategy for Disaster Reduction (UN/ISDR) as the capacity of a community, place, or city to reduce its vulnerability to extreme events and respond creatively to economic, social, and environmental change in order to increase long-term sustainability.2 While the concept can be useful in thinking about how societies can cope with extreme events, resilience can also be used to justify and reinforce the status quo in the context of a neoliberal agenda. This is what has occurred in the aftermath of the 2017 hurricanes in Puerto Rico. By shifting the discourse about resilience to place the burden of survival and recovery on individuals, the governments of the United States and Puerto Rico, along with the corporate media, have pushed an agenda that reshapes the role of the state from a provider of goods and services to a promoter of self-reliance.3 This is especially problematic for communities without the know-how or access to resources to address and change their vulnerabilities to extreme weather conditions.
In Puerto Rico, the local government's co-opting of the resilience discourse is a double-edged sword. On the one hand, the language of resilience recognizes the perseverance and strength that local communities have shown in overcoming adverse circumstances. On the other hand, it has enabled governments to rely on people's efforts to better their communities, effectively denying the government's own responsibility to aid the victims of catastrophic natural events. Yet it is precisely because of governments' promotion of the unequal distribution of wealth and power through the facilitation and preservation of a colonial system that these events become "disasters" in the first place. The unequal wealth distribution seen in Puerto Rico is characteristic of marginalized communities across the Global South, where communities often operate and survive in the partial or total absence of government services.4
Resilience as a construct: biology and "social sciences" at odds?
Resilience can be and has been interpreted and defined in diverse ways, but one of the most common definitions of resilience stems from the biological sciences.55
In ecology, for example, resilience is defined as a system's capacity to return to a previous stable state after a disturbance.6 Applying this concept to explain the resilience of marginalized communities and grassroots organizations in the aftermath of a catastrophic event—not just natural events, but political as well—is problematic because it assumes that systems or current social conditions are "stable" and therefore optimal or desirable.7 Although in some cases this assumption might have truth to it, if conditions before the event are desirable for the many, in other instances change is necessary for the collective good. Puerto Rico is one such case.
The colonial domination of Puerto Rico by the United States since 1898 has led the archipelago to face countless injustices, which in many ways set the stage for the disastrous aftermaths of Hurricanes Irma and María in 2017. Two such injustices had particularly salient effects. The first is the Jones Act, passed in 1920, which restricts international shipping and inflates prices for food and other goods arriving from US ports. It exacerbated the food shortage that resulted after the hurricanes by making it both harder and more expensive to find food. More recently in 2016, the United States Congress passed the Puerto Rico Oversight, Management, and Economic Stability Act (PROMESA), which was meant to restructure the island's debt. It led to the closure of vital community services and public schools, reduced employee pensions, and let roads, ports, and the energy grid fall into disrepair. This is not a stable state to which Puerto Ricans want to return.
Two Visions of Resilience
There are two distinct ideas of resilience at odds in Puerto Rico. First, communities such as the Carolinas in Caguas, Mariana in Humacao, and grassroots groups such as Comedores Sociales have defined resilience in the face of natural catastrophic events, by becoming self-reliant and creating their own power grid or cultivating their own food, among other efforts.8
A second view is exemplified by the government's Oficina Central de Recuperación, Reconstrucción y Resiliencia (Central Office of Recuperation, Reconstruction and Resilience), which is in charge of Puerto Rico's recovery from Hurricane Maria. This office is in charge of Puerto Rico's recovery efforts from disasters and the implementation of plans to increase the island's resilience.9 The office stresses the role of the private sector, as well as federal and foreign capital, as the main route to provide recovery and build resilience. In addition, this agency published the document titled "Transformation and innovation after devastation: An economic recovery plan for Puerto Rico" which states that the island needs "more resilient communities," and focuses on financial investment as the main path for recovery, overlooking the conditions that put these communities at risk in the first place. The assumption is that investment will "jump start" the economy and benefit these communities through "trickle-down" economics. Perhaps most importantly, the document also ignores the role of US colonialism in Puerto Rico as a source of the island's problems, stretching back to long before the hurricanes.
Community Resilience through Soup Kitchens and Local Water Systems
After the 2017 hurricanes, many Puerto Rican communities were left to fend for themselves for weeks before any government aid arrived.10 In the meantime, the María Fund, an umbrella group of more than forty local organizations, provided essential services using alternative, not profit-driven, models of decision making. These alternative models point to possibilities for a sustainable and just future for all Puerto Ricans.
Since before Hurricane María, a large percentage of Puerto Ricans have faced food insecurity daily.11 Giovanni Roberto, one of the founders of Comedores Sociales, recognized this issue and created a project to feed those in need through local food production and soup kitchens. This project became the lifeline for many residents after Hurricane María; for some people, it was their first plate of warm food in the weeks after the storm. By purchasing from local producers, the Comedores Sociales promote an alternative feeding model that reduces dependence on foreign produce—the root cause of food insecurity and food shortages after Hurricane María. Decisions on what to cook and which communities to target are carried out horizontally, reflecting an alternative way of collective organizing.
Other important examples of building resilience from the ground up are found in so-called "non-PRASA" communities. Non-PRASA communities are ones that are not connected to the Puerto Rican Aqueduct and Sewer Authority's (PRASA) main water infrastructure system. These communities have instead created their own water supply infrastructure, including primary and, in some cases, secondary treatment processes.12 Conservative estimates state that these communities have over 100,000 active users.13 Non-PRASA systems are sometimes deemed primitive, ineffective, and unsafe by local officials.14 However, these systems often provided the only means for residents to access clean water after Hurricane María. While some of these systems predate the 1980s, they became more visible after the hurricane as a sustainable way to ensure that the supply of water did not depend on the crippled infrastructure of PRASA.15
The Failed Recovery
Two years after Hurricane María, thousands of people are still living under the blue tarps of the Federal Emergency Management Agency (FEMA), with intermittent access to water and electricity and with limited transportation mobility due to damaged roads.16 FEMA denied around 62 percent of aid applications following María, including 80 percent of aid appeals.17 FEMA argued that applicants lacked land titles, but this policy ignores Puerto Rico's colonial reality.18 Historically, land titles belonged to sugarcane and factory landowners, who yielded part of their land to people in exchange for labor. As time passed, families continued to live in these places without ever acquiring land titles.19 FEMA's rigid policies deny aid and disproportionately affect the poorest, marginalized communities.
Pushing resilience forward
Through community "resilience" projects, people in Puerto Rico are resisting the replication of the system that existed before the 2017 hurricanes.20 These collective efforts, as defined and practiced by impoverished communities, have the potential to integrate diverse sectors of society in coping with catastrophic natural events. The recent earthquakes, in January 2020, showed once again how local communities and NGOs are the first to act and provide relief to those in need. Even under unsafe conditions, civilian caravans brought aid to communities that local government agencies were unable to reach. And yet again, the local government emphasized the people's responsibility to manage these events alone. Wanda Vázquez, the current governor, went as far as to suggest that residents fill a backpack with emergency supplies as the main line of defense against earthquakes, without detailing government plans and policies.21 Two weeks after the earthquake, residents in the town of Ponce found warehouses stocked with supplies that were supposed to have been distributed after Hurricane María, supplies that never reached those in need. Furthermore, 95 percent of all public schools, which operate as emergency shelters against hurricanes and earthquakes, were not in conditions to withstand an earthquake.22
The alternative models exemplified by Comedores Sociales and the water supply and treatment infrastructure built in non-PRASA communities illustrate the potential of communities to create the conditions to thrive and operate in a new social reality. These initiatives will be key as the climate crisis makes extreme weather events more frequent. Communities impacted by extreme natural events must take power in crafting strategy and organization to cope with such events. Not only do such communities want a "slice of the pie," they want to create a "new pie"—a new reality where they can thrive and be part of the process of building a just society.
About the Authors
Omar Pérez Figueroa is a third-year doctoral student in the Urban Planning and Public Policy Program at the University of California, Irvine. Omar graduated cum laude in 2010 with a BA in Social Sciences from the University of Puerto Rico, Río Piedras. He possesses a master's degree in Water, Interdisciplinary Analysis, and Sustainable Management from the Universitat de Barcelona. His research interests are focused on understanding how grassroots movements and underrepresented communities deal with environmental inequities, with a special focus on water issues. He is a 2011 Truman Foundation Fellow. His most recent project focuses on how social networks can be used as a model to reduce communities' vulnerability to environmental hazards such as floods and hurricanes from an environmental justice perspective.
Bolívar Aponte Rolón is a PhD student studying bacterial and fungal endophytic communities in tropical forests and mangrove ecosystems. His research interests are, broadly, tropical ecology, agroecology, mycology, and myrmecology. He completed his undergraduate studies in political science at the University of Puerto Rico, Río Piedras where he participated in the student movement of the early 2010s and participated in community organizing regarding issues of environmental justice in southern Puerto Rico. Since Hurricane María hit Puerto Rico in 2017, he has served as co-coordinator of the Science for the People Puerto Rico Solidarity Working Group.
References