Autumn 2022 Organizing Reports
Volume 25, no. 2, Bleeding Earth
---
You can find previous organizing reports here.
---
Twin Cities
Not a day goes by in the Twin Cities chapter where we aren't thinking about how to stop the Enbridge Line 3 tar sands pipeline. This effort has been transformative and difficult to put into words, but what we can say for certain is that building trusting, lasting relationships was and continues to be the heart of this movement. These relationships were born from potlucks, coffee table conversations, celebrating birthdays, journal clubs, event organizing, and the friendships that blossomed years before Line 3 construction started. This has emboldened us to take risks both professionally and personally to fight against the massive fossil fuel infrastructure and the police state that guards it.
Many of our members have engaged in various tactics against this pipeline—from direct action organizing, supporting treaty rights, providing public comments, following permits, making maps and media, supporting sampling efforts for water and rare species, grant writing, social media, walking over 250 miles from the headwaters of the Mississippi River to the Capitol in St. Paul, and more. This diversity of tactics and engagement was one of our strengths throughout the spring and summer of pipeline construction. 
Applying our skills as scientists, we took water samples from the rivers that Line 3 crosses and tested them promptly in labs that we have access to. An appreciation of nature and justice—i.e., respecting the sovereignty stipulated by treaty rights of Anishinaabe peoples—necessarily compels us to study and provide facts regarding endangered bees or threatened mussel species by Line 3's construction. We are proud to represent SftP in the broad coalitions of Stop Line 3.
We are still growing, learning from our mistakes, committing to showing up more fully in movements for justice, and striving to center Indigenous sovereignty in our organizing efforts. We are learning how to address the internalized patterns of racism and heteropatriarchy that occasionally plague our group in moments of distress. Taking on the juggernaut of fossil fuel infrastructure while juggling our day jobs is exhausting, and failures become especially demoralizing. We need to debrief, resolve conflict, and collectively reflect in order to persevere. 
Science is about uncovering the complexity of the incredible world we all share. When it comes to the struggles against pipelines or other forms of environmental devastation, facts and evidence are on our side. While Governor Walz tells the people to "follow the science"—science that was used as an inscrutable shield against any critique of Line 3—a science for the people knows that Line 3 must be stopped.
While the pipeline construction is technically completed, we are still fighting the criminal charges levied on us. We continue to support those documenting environmental damage caused by Line 3. We are just as committed to the fight as before. Please reach out to get involved; there is still a lot of work to be done.
twincities.scienceforthepeople.org/
---
Western Mass
The Western Mass chapter had a great year. We are an eclectic group of community members, students (graduate, undergraduate, and occasionally K-12), faculty, and university staff based in Western Massachusetts, with strengths in education, agriculture, public health, energy, engineering, and the arts. We have continued to meet weekly throughout the pandemic—mostly on Zoom but with occasional in-person gatherings.
In December 2021 we held our fourth Zoom-based community workshop on science and social justice, organized with the Sojourner Truth School for Social Change Leadership (http://truthschool.org). The theme was "Critical Teaching on 'Trusting the Science.'" We built on the lively conversations in our chapter meetings about what it means to "trust the science": Whose science? Which science? And how do historic and ongoing forms of oppression prevent scientific institutions from earning people's trust? Lightning talks by chapter members laid the groundwork for breakout discussions with a special focus on how teachers can address these questions in their classrooms. As with our previous workshops, the video and other materials from the workshop are archived on our website. 
In April 2022, after two years of postponing due to COVID-19, we put on our first in-person People's Science Fair, which we held on the campus of UMass Amherst and archived on our website. We mobilized over thirty local organizations, community groups, researchers, activists, and students to showcase their scientific endeavors and interests. The design of the event encouraged participants to cross-pollinate, such that fairgoers not only encountered the work of research scientists and STEM educators, but also heard directly from grassroots community organizations—including worker-led farms, anti-nuclear and anti-militarism groups, and the respected environmental justice organizer known as the Mold Lady. We had an amazing turnout of people from all across the region, including a bus of high school students from Springfield. The buzz of the event was steady and exciting the whole day, and we are already anxious to hold our second annual People's Science Fair next spring!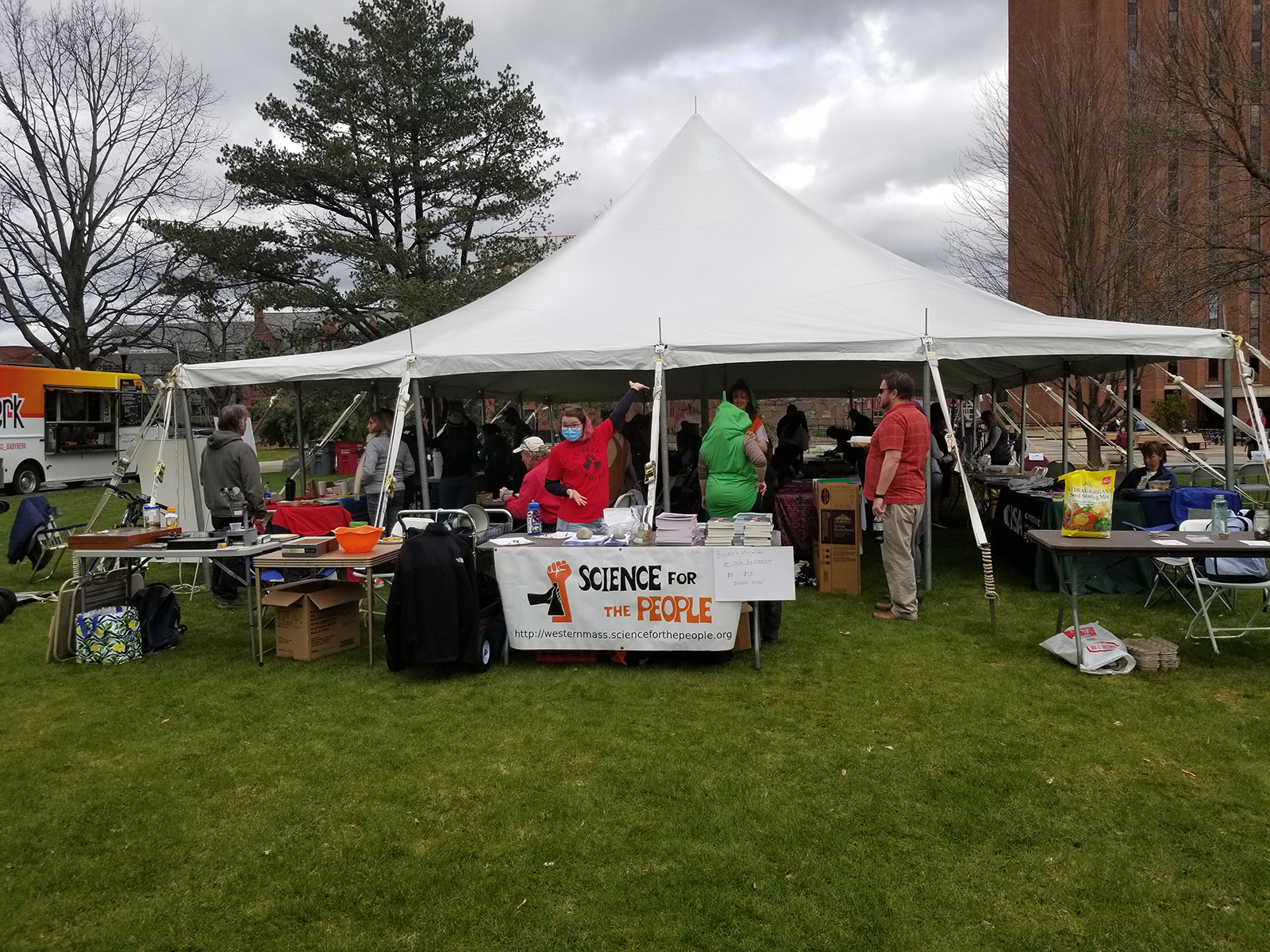 We also participated for the fourth year in the Juneteenth celebration organized in Springfield, Massachusetts by our community partner, Arise for Social Justice (http://arisespringfield.org). The event takes place annually on June 19 in a city park with speakers, music, and a BBQ cookout. Local organizations set up tables with activities and information on justice issues, including community-based health care, mold and health, stopping a toxic pipeline and a biomass plant, and more. At our table, we informed people about our involvement in these and other issues, and we gave away SftP brochures and magazines. We also included some fun activities, such as African math games (tsoro yematatu from Zimbabwe and giuthi from Kenya) and displays of insects that were remarkably popular. We included very large, very small, and colorful pinned insects, which some people (especially kids) liked, while others expressed horror. Especially popular were the live lady beetles that people could handle and then release while we chatted about their usefulness in sustainable agriculture and pest control. Beyond their scientific value, lady beetles are also widely considered as good luck, and many people like to make a wish on them as they fly away. Why shouldn't science for the people be fun?