Green New Deal: top-down or bottom-up?
By Sergio Belda and Victoria Pellicer
Volume 23, number 2, People's Green New Deal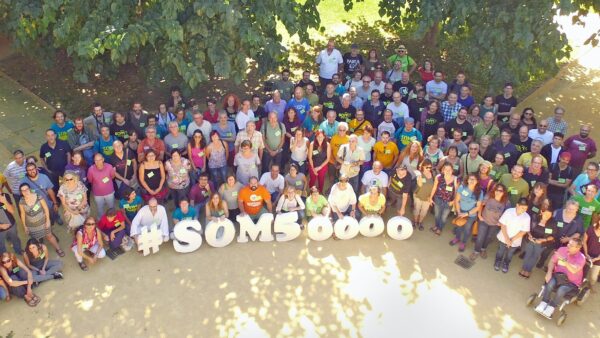 Encuentre una traducción de este artículo en español en nuestro sitio web.
From different parts of the world, we are being called upon to embrace a brand new green deal as an unassailable solution to the climate crisis. The appeal is coming from powerful actors: transnational entities, governments and political leaders (not only those with a progressive orientation),1 major newspaper headlines,2 successful financiers and leaders of large corporations,3 and intellectuals of international standing4 are calling for a great deal that will guarantee us a future that is not only green and sustainable, but truly enjoyable.
With this deal, the solutions to the problems of sustainability that we are suffering from are within our reach, right around the corner. Everyone agrees on the imagined green future we want and how to achieve it. We have the recipe, the technology, and the capacity. We just need the will, the drive, and sufficient investment.5
We are all familiar with the images of this utopian green world. The solutions that it offers delight the senses and the imagination: green, infinite, super-automated fields where fashionable, organic products grow and later fill the unlimited supermarket shelves; a world free from animal slaughter thanks to 3D-printed meat in restaurants, produced in factories and even space stations;6 autonomous electric cars filling wide, smart highways,7 finally expelled from historic city centers, which are now fully dedicated to pedestrian walkways between global franchises offering sustainable menus for all pocketbooks;8 energy produced by majestic wind turbines, bringing new prosperity to the plains of Iowa, Texas and Nebraska and new productivity to the oceans;9 in cities, huge glass skyscrapers with smart apartments on beautiful green tapestries; in the countryside, exceptionally comfortable and spacious single-family homes that are fully sustainable thanks to their intelligent design;10 at all times, unlimited access via our mobile phones to every product and service imaginable, with the peace of mind that they are offered to us without producing any waste that is not subsequently recovered (or whose environmental impact has not been incorporated into the cost and compensated for); and always the personal peace of mind from the knowledge that we are able to monitor our health twenty-four hours a day with portable devices that will not only patiently watch over us, but will also open up a huge new market.11 Images, in short, that reveal the encounter between sustainability, technology, intelligence, new markets, and prosperity. Images that should make us see the new great green deal not as a threat to our current lifestyle, but as the way to save our way of life, our planet, our individual welfare, as well as our capitalist system.12
From the centers of power, we hear that this comprehensive deal must take place in all countries and reach all people and social groups.13 Thus, difference and diversity are finally diluted in a future of sustainability, as all cultures and territories embrace the same path and the same urgent solutions.
Supporting this deal is simple. All you have to do is let those who know how to do it do it: trust in courageous policy makers with the will to act (though they come from different ideologies, we all agree on sustainability); applaud enlightened entrepreneurs who will find the right business models to accelerate change using market forces; encourage the efforts of fast food and fast fashion corporations that embrace sustainability by buying more of their products, because they will provide the necessary momentum for all of this; "like" and "follow" philanthropists, influencers, celebrities and ecologically-minded rock stars, who will be the vanguard, the voice and the face of the new times. Whoever does not accept the invitation from above to join this deal  blocks the future and denies progress. It is a deal based on common sense, so how could you be against it?
There are many people who believe in the need for a new green deal of some sort, but who do not want to join yet another deal led by the powerful. Instead, these people are building an alternative deal, perhaps less visible and spectacular, but also more interesting, alive, deep, sincere, and transformative. It is a deal that is literally right around the corner, in our streets, towns, neighborhoods, rooftops, gardens, and our places of study, leisure, and work.
It's a green deal, but it is not new. It is the sort of deal that people have always signed onto—to create, exchange, and consume what they need, and to understand, meet, and care for each other—but now it is taking on new forms and strategies. It is, for example, the deal signed by the people of Som Energia, a green energy consumption cooperative with more than 65,000 members, which provides electricity to more than 113,000 homes and organizations throughout Spain. The cooperative supplies energy from sustainable sources, supports local renewable energy production projects, and mobilizes and lobbies to promote the end of the oligopoly and the transformation of the energy model.14 Som Energia's deal puts cooperative values, the collective, and the common at the center by generating different forms of property and shared management.  It aims for political and economic decentralization by developing and disseminating financial, technical, organizational, and political means of organizing community projects for the production of energy. It places the mobilization, reflection, and commitment of the people at the center by opening up spaces for participation, exchange, and action to transform the energy model.15 It is based on solidarity, collaboration and networking, because it shares knowledge and experiences with other initiatives that are building the energy transition from below. It is an inclusive and fair deal that seeks to address situations of energy poverty and to guarantee the right to energy. Finally, Som Energia has created a democratic deal, based on the concept of the exercise of direct power by the people through the promotion of the decommodification of rights, common goods, and life.
Countless similar examples can be found in places all over the world. Cooperatives and agroecological food consumption groups in neighborhoods and villages establish relationships of trust and mutual support with local farmers in order to provide themselves with healthy and varied food without intermediaries.16 Social currencies permit people to exchange outside the market, while recognizing their own and others' value.17 Cooperative housing decommercializes land and cities while providing shelter and community life.18 Mobility is enhanced through ride-sharing projects based not only on the sustainable but also on the common. Initiatives in the digital world share code, data, networks, and infrastructure, not only to make knowledge more available, but also to make its production and access freer, more open, and more democratic.19
This bottom-up deal is radically different from the one proposed by the powerful. It places not only technology at the center, but also the transformation of multiple other areas of sociotechnical and socioecological systems: relationships and patterns of organization; values and visions; production, exchange, and consumption schemes. It does not posit standardized scientific knowledge as the only valid source of knowledge, but also knowledge embedded in people and the land; not only knowledge that can give rise to a 3D printer for proteins, but also peasant knowledge that permits the production of healthy food for the community, respectful of the land and its history.
The top-down green deal is based on the unique discourse, the uncontested acceptance, the technocratic logic that nullifies politics, so it presents itself as self-evident and lacking in alternatives. In contrast, the bottom-up deal recognizes and assumes the intrinsically complex, contradictory, political, and problematic nature of social change processes. If the top-down approach places the solution and the certainty in the center, the bottom-up approach places process, doubt, and questioning in the center. If the top-down deal is based on the obedient actions of people as simple voters and consumers, the bottom-up deal has freedom (or, better, liberation) as its principle. Therefore, joining it does not imply accepting, but rather taking sides, participating, getting involved, and engaging with others.
The scientific literature has addressed the bottom-up processes that we are referring to as authentic processes of innovation, of communitarian and collective innovation, supported by the perspectives, needs, and desires of people and territories.20 Although much of what is carried out in these alternatives is by no means new, they do generate a new world on the margins of the dominant models.21 They generate alternative spaces where the way of producing, exchanging and consuming is experienced and tested under a different logic. These projects and initiatives not only dream, but anticipate, prefigure, and in fact already contain the radically different world to come. High-tech dreams, on the other hand, are empty.
Powerful actors, rather than looking with fear at the bottom-up initiatives, look on them with sympathy: for power, they are not a threat but "inspirational" practices, a source of energy and ideas that the market can incorporate (perhaps first through the vanguard action of "social entrepreneurs"). They are charmingly radical initiatives that remind us to be a little rebellious. But we know that these are two different paths: the top-down deal is not the same as the one being built by the people themselves.
In any case, a broad agreement is necessary and possible. But it must be a deal from below, a Green New Deal of the people. This does not mean an exclusive deal, but the opposite: people from politics and institutions, intellectuals, scientists, perhaps people from the world of economics, can and must be added to this people's deal. But for this to happen, other old, obscure, and ancestral deals between elites, between governments, corporations, certain scientific and intellectual circles, and other powerful actors must be broken. Only in this way can we bet on a broad deal that allows us to initiate a transition towards sustainability and justice, led by the people, that decentralizes power, democratizes social relations, and decommodifies life.
In short, as citizens, professionals, voters, scientists, managers, decision-makers, we must know what position we are taking: whether we are submissively joining the green deals proposed from above that perpetuate the system, or whether we are contributing to the creation of a Green New Deal of the people that will give rise to an alternative and radically democratic world, a world that is already possible.
References