Chapter Reports, Spring 2019
Reports from Science for the People chapters across the United States.
Ann Arbor, Atlanta, Boston, College Park, East Tennessee, New York City, Twin Cities, and Western Massachusetts chapters of SftP
Volume 22, number 1, The Return of Radical Science
---
ANN ARBOR
The Ann Arbor chapter of SftP has recently focused on the issues of climate change, reproductive justice, and solidarity strategy.
Actions around climate change have primarily been in collaboration with the Climate Action Movement (CAM) at the University of Michigan to put pressure on the U-M President and administration to develop a plan for carbon neutrality that is aggressive and incorporates the principles of environmental justice. SftP members were instrumental in aggregating data to assess University progress toward climate goals and, with CAM, developed a set of emissions reductions targets in accordance with the the latest IPCC recommendations for limiting warming to 1.5C. SftP and CAM members drafted resolutions based on the recommendations, which were then passed unanimously through student and faculty governments. Current work is focused on garnering a commitment in adherence to these recommendations from the President and Regents of the university, with tactics including official testimony, op-eds in university publications, and organizing direct actions.
We have also been working to introduce those engaged in climate action to a larger critique of the social structures at the root of the climate crisis. Along these lines, we have partnered with the local Marxist Collective to host Jason Moore for several speaking engagements at the University in spring 2019. Jason Moore is an environmental historian known for his books and essays on environmental history, capitalism, and social theory. Furthermore, a subgroup of SftP members are actively advocating to incorporate a course in the School for Environment and Sustainability's core curriculum at U-M that more adequately incorporates environmental justice, critical analysis, and environmental ethics.
SftP members have conducted a number of direct actions in solidarity with larger campaigns. These have included: targeting events hosted by banks responsible for financing environmentally destructive pipelines with blatant disregard of Indigenous land and rights; advocating for effective and unbiased local police oversight; debunking pseudo-scientific claims made by an anti-immigrant speaker.
Ann Arbor SftP periodically facilitates "Science for Who?" events with an open discussion between panelists and community members about a specific area of science and its interplay with society-at-large. "Science for Who?" has provided an informal setting (over food) to engage with and learn about the deeper implications of a variety of fields and serves as the first point of contact with SftP for potential members.
Contact:
Email: sciforthepeople@umich.edu
Website: umsftp.blogspot.com
Facebook: @UMSftP
Twitter: @UMSftP
---
ATLANTA
If it hasn't been clear before, the latest IPCC report has put the crisis in plain view: life on Earth as we know is threatened, and the window of opportunity to avoid the worst is closing quickly. We have a seemingly vanishing timeframe of only twelve years.
Is all lost? No, not yet! While leaders continue to promote extraction of fossil fuels, or are, at best, reluctant in their actions, the citizens of the world, the people, rise up, demand change, and create solutions (e.g., Europe, Puerto Rico, and California). It is the people who have the vision and create movements that will ultimately break up the cultural hegemony, advocated by the current elites, which continues to fuel climate change. Science for the People has drawn attention to how corporations successfully lobby politicians into policies that serve their profit. Frank Bove, an activist and organizer with SftP in its early days and now a member of the Atlanta chapter, published an article in the Science for the People Magazine in 1979 that exposed how the young technology of solar cells was already under attack by oil lobbies. Decisions around climate change are beholden to corporate profits and a perpetual growth-driven economy, in other words: capitalism.
Science for the People rises with the people, in the streets and at our writing desks, at the front lines to build a better tomorrow–together!
In September 2018, we participated in two events with partner organizations. We co-organized a rally with 350.org Atlanta, Sierra Club Georgia, and 1.5 Degree Patrol, featuring a panel at the Flipper Temple American Methodist Episcopal Church made of several local social justice organizations: Atlanta Jobs with Justice, Georgia Women's Action for New Directions (W.A.N.D.), Los Vecinos de Buford Highway, The New Georgia Project, and WRFG Labor Forum. We also tabled with EcoAction at the Just Energy Summit at Morehouse College, which featured scholars, social and environmental justice activists, and policy makers discussing strategies to achieve energy justice in the metro Atlanta area.
When Atlanta's city council came forth with a resolution in late 2017 to transition to 100 percent clean energy, our chapter decided to educate ourselves and our community on how to transition in an equitable way. In monthly reading group sessions we covered theoretical concepts such as Marx and Engels' concept of the metabolic rift, the cause and impact of climate change on a global scale, and local solutions like energy democracy as a means to achieve an equitable clean energy transition. Energy democracy is a crucial concept to highlight since it prescribes the dissemination of decentralized renewable infrastructure, which will put energy production, and thus power, into the hands of the people, and creates the potential for thousands of well-paid jobs. Energy democracy is a key vehicle for the city of Atlanta's equitable clean energy transition, as well as, on a federal scale, the "Green New Deal." Finally, we learned technical and political aspects of how to integrate renewables into the existing energy grid which concluded this year's reading group.
With the new year SftP's national Climate Change working group launched its People's Green New Deal campaign. Members of SftP Atlanta helped to materialize this timely and crucially important campaign on a national scale. Locally we partnered with the Ecosocialists of the Metro Atlanta DSA, the Sunrise Movement, and OurRevolution Georgia to start crafting a vision for a Georgia Green New Deal as well as held our first Green New Deal town hall in Gwinnett in May 2019. In June we joined a large rally to put pressure on the local private utility company Georgia Power and its regulators of the Public Service Commission to quite coal and expand solar energy. For the rest of the year we will be working on strategies to foster the growth of community solar in Georgia, as inspired and informed by our readings on Energy Democracy.
Contact:
Email: sftpatlanta@gmail.com
Website: atlanta.scienceforthepeople.org
Facebook: @sftpatlanta
Twitter: @sftpATL
---
BOSTON
The Boston chapter of Science for the People has passed through several stages since the rebirth of the organization on a national level in 2014. Currently, with the incorporation of new members—inspired by the national convention in Ann Arbor in February 2018 and by politically oriented science events in Boston—the chapter has more than a dozen active members and many more who occasionally participate in chapter meetings. Most of the active members are associated with five universities around the city as students, post-docs, or faculty and represent a range of disciplines, such as physics, mathematics, oceanic and atmospheric sciences, bioengineering, public health, history and philosophy of science, with a few journalists, editors, and others not affiliated with universities.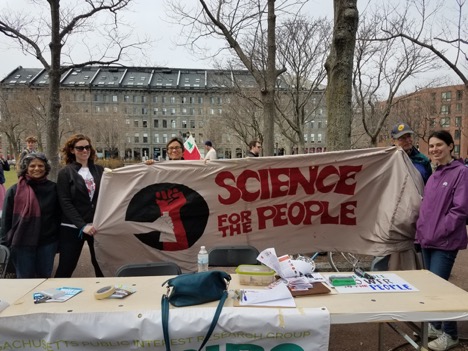 The chapter has been consolidating itself through now twice-a-month meetings that include presentations by members and/or discussions of readings. Topics have included biodeterminism (presented by Jonathan Beckwith, one of the original members of Science for the People), the ideology embedded in artificial intelligence, gender/race/caste in science, a chapter on Lysenkoism by Levins and Lewontin, ongoing efforts to increase private-sector involvement in the US space program, and the politics of geoengineering technologies to mitigate climate change.
Boston Science for the People seeks to raise awareness of the political nature of science and technology among academics, STEM workers, and the public. The chapter has raised the profile of Science for the People through organizing or participating in public events such as the 2018 March for Science in Boston, a panel on feminist science in action during the MIT Day of Action, separate events to promote the new books Science for the People: Documents from America's Movement of Radical Scientists and The Truth is the Whole: Essays in Honor of Richard Levins, and a session on Science for the People at the Solidarity in Action teach-in at UMass-Boston. In May 2019 the chapter organized a panel, "SftP Then and Now: Lessons from the Early Years," with several members of the original organization participating.
Contact:
Email: sftp.boston@gmail.com
Facebook: @sftpboston
Twitter: @sftp_boston
---
COLLEGE PARK
The College Park (University of Maryland) chapter of Science for the People is just finishing its first academic year. We started by attracting a core group of like-minded science activists by holding reading groups on various topics and inviting people to join us for in-depth political discussions. We've discussed issues like how experts should interact with democracy, the science of sex and gender and how it relates to transgender rights, and climate change and ecological economics.
In the spring, we have switched gears a bit to focusing on building institutional connections with other campus activists. That means socialists, environmentalists, and anti-prison activists. One technique we've used to attract new members is showing documentaries, which help people enter discussion easily around a shared experience. We've shown one documentary on climate change and another on how patents are used to control medicine worldwide.
Maryland has plenty more issues we could tackle head-on: Vice called the University of Maryland America's most militarized university; our proximity to DC allows for easy activism on federal politics (Congressional visits, etc); and the university is currently experiencing some political pressure from students who want us to cancel a contract with ICE. We're looking forward to the next year and continuing to broaden our work and push for a just science at UMD.
Contact:
Email: sftp.umd@gmail.com
---
EAST TENNESSEE
The East Tennessee chapter of Science for the People is centered in Knoxville, but the activities of our membership extend to Oak Ridge and into the rural areas of the region, which include large research institutions such as the University of Tennessee, Knoxville, and the Oak Ridge National Laboratory. We formed around the time of the 2017 March for Science. Many of our members had been involved in both labor and environmental activism long before the emergence of SftP or the contemporary science movement in general. When it came time to plan and execute the local March for Science, we saw it necessary to strengthen the linkages between our organizing and our jobs as science workers. In building the march and speaker roster, we sought to build unity between the voices of people marginalized within science, the campus and research workers that make science happen locally, and environmental justice organizations. We felt successful in steering the message of the march towards a distinctly radical tone—advocating the necessity of system change to address climate change, lifting up the struggles of marginalized and oppressed people within science, and promoting these struggles above banal "science advocacy." Overall, the march helped us understand the balance of forces operating within the local science community and develop strategy for building our chapter over the coming months and years.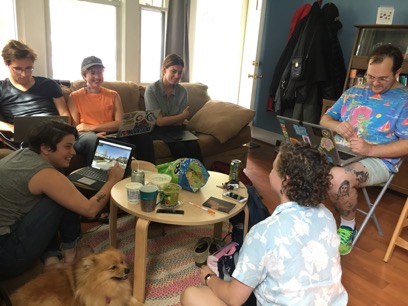 We began hosting regular meetings in early 2018, with much of the discussions centered around organizing practices in general, our personal struggles within education and research, and thinking about how to engage with existing movement work locally. One of the lessons learned from these meetings is just how eager many people in the sciences are to learn about political organizing. A common theme in sharing our experiences in the sciences was how institutionally repressed we were from both engaging in political activism and coming to understand science in political terms. Our meetings became a space where we shared our knowledge and skills with one another and introduced each other to concepts familiar to political organizers but less so to scientists while discussing how we could put this knowledge to practical use. When sharing our memories of the past year, many of our members felt strongly that this was one of the more useful aspects of our meetings.
Through our discussions, coalition building with other movement forces emerged as a primary goal for our work. In particular, there was real concern that if we weren't careful, we might duplicate the efforts of existing movement groups operating within the region, which might be seen as chauvinistic coming from a group of scientists. We took this concern to heart, so rather than plan our own campaigns, we reached out to existing groups in the area to help them with their already existing work. Our members assisted with data entry for Appalachian Voices to aid with their campaign to build bottom-up membership power within rural electrical co-ops and turned out to support the longstanding efforts of Statewide Organizing for Community eMpowerment (SOCM) to hold the Tennessee Valley Authority and the Tennessee Department of Environment and Conservation (TDEC) accountable at hearings for their multitude of failures in the region, especially regarding the 2008 Kingston coal-ash spill. This environmental catastrophe killed over thirty cleanup workers and caused severe illness in several hundreds more of the one thousand workers, due to severe and deliberate negligence on the part of the contractor responsible for the cleanup.
In the fall of 2018, one of the organizers for SOCM approached us concerning a hazardous waste permit application from a chemical plant operated by Dow Chemical subsidiary Rohm & Haas. This plant is located in the heart of Knoxville, in a high density neighborhood where predominantly working class people, people of color, and students live. The plant had racked up a series of wastewater violations in the past due to leakages of volatile organic compounds into the groundwater and nearby stream, so there were major concerns regarding permitting the storage of thousands of gallons worth of hazardous waste on site.
According to Tennessee state law, TDEC must comply with requests to host a public hearing regarding any new or renewed permits. We requested that TDEC host a public hearing and we set ourselves to the task of raising awareness about the plant, and organizing community members and students to attend the hearing. From the outset, we understood that it was probable that the permit would be granted, but we saw this as the first step in long-term organizing for environmental justice in the area that intersected with class and racial dynamics. As such, this was a good chance to grow our collective skills and strengthen our solidarity. In preparing for the hearing, we hosted a research party to collect information about the history of Rohm & Haas, analyze the details of the application permit, review state and federal environmental law, and to prepare a community briefing document to enable people to make informed comments at the hearing. The research party was undoubtedly one of the most enjoyable and meaningful activities we have done together, as it allowed all of our members to put their scientific knowledge into service.
At the public hearing,  we brought the science in a strong and righteous way that demonstrated our prowess as scientists and commitment to serving the people. Each of us comes from different disciplinary backgrounds, including public health and environmental engineering, and our comments showed that our concerns were to be taken seriously. The local press coverage of the hearing reflected this, as they reprinted much of the strong commentary we brought forward. Many of the environmental regulators present expressed in private that they were impressed with our comments afterwards.
At present, we are mobilizing and strategizing to support SftP's People's Green New Deal campaign. In February 2019, we held a facilitated community discussion to hear from locals about what they would like to see from a Green New Deal to better their own lives and to support the livelihoods of people in Appalachia in a decarbonized economy. About forty people came to share their thoughts and give feedback on a Green New Deal. SftP and other regional organizations like SOCM and Appalachian Voices, are converging around a shared, long-term campaign to rewrite the Tennessee Valley Authority act within the framework of a People's Green New Deal. We are kicking off this campaign by hosting a series of events we are calling an "Energy Democracy" tour, whereby we'll target communities and cities that would be most impacted by a just transition away from fossil fuels to hear out their concerns and accumulate input on necessary content of a rewrite. All this is meant to build mass support and converge organizations around this goal so that if the political climate changes in 2021 we'll be set to introduce popular legislation through some of the politicians who have been vocal about the GND.
Overall, we've learned a lot over the past year or so in building our chapter and working on our first campaigns. We hope to continue growing our membership base, strengthening our coalition partnerships, and demonstrating our solidarity with everyday people in the region. We also hope to create linkages with other chapters and to share skills and share organizing work to build Science for the People!
Contact:
Email: sftpetn@gmail.com
---
NEW YORK CITY
For the New York City chapter of Science for the People, the past year has been defined by newfound potential to mobilize people power and grow our roots within the surrounding activist community. For many of our public appearances, we partnered with activists from organizations such as Democratic Socialists of America, Movimiento Cosecha, and Columbia's Graduate Worker Union. In these efforts we strove not just to band together at public demonstrations, but to nurture our allyship through ongoing collaboration–giving organizers the floor to present at our bi-weekly chapter meetings, hosting art-build parties at apartments and public spaces, and leading topical discussions that related to the campaigns we've supported. Additionally, we've forged goodwill with local venues such as Verso Books, Bluestockings, Caveat, and Star Barr, where we hosted and co-hosted panels, fundraisers, film screenings, and even participated in science-themed nightlife events.
In summer 2018, amid the disturbing reports of the Trump administration's xenophobic immigration policies, we launched a campaign to implicate the use of scientific developments—specifically in the tech sector—to expand militarism and enable governmental agencies to further violate human rights. As workers at major tech corporations began to demand accountability from their employers, we amplified their message in order to draw attention to the connections between corporate control of technology and human marginalization, and de-normalize the practice of prioritizing profit over people. Our campaign started small, with a series of efforts such as: petition sharing, leafleting, picketing, and joining protests with our tech-implicating messaging. By July 31st, the influence of our campaign reached a culmination point, as we mobilized hundreds to take to the streets in heeding Cosecha's national call for action.
After weeks of planning in collaboration with Cosecha NYC, organizers within our chapter staged a picket, march, and civil disobedience, where we disrupted midtown rush-hour to demonstrate at flagship Microsoft, Salesforce, and Amazon locations in the city. At the brick-and-mortar Amazon on 34th street, we created a booming spectacle with protestors chanting and singing and the Rude Mechanical Orchestra driving the energy with boisterous music. We shut business down with a human blockade that dared to hold the line until put under arrest. Coming out of this action we leveraged our momentum to draft a solidarity letter with tech workers, assist in the establishment of a NYC Tech Workers Coalition chapter, and raise awareness by picking up media attention.
As fall set in, we shifted to strategy and outreach events by supporting academics, authors, and community organizers in the execution of panels, discussions, and rallies. In the spirit of SftP's legacy of international solidarity work, we supported Scientists for Palestine in executing the Second International Meeting for Science in Palestine, a multi-day conference that brought together academics, students, and scientists from Palestine and the international scientific community to collaborate on implementing concrete plans to bolster the access and achievements of scientific pursuits for Palestinians. Locally, we engaged with the community through Verso's climate change panel series, where we expanded our network with SftP flyers, merchandise, and newsletter sign-up sheets in tow.
Contact:
Facebook: @SFTPNYC
Twitter: @SftPNewYork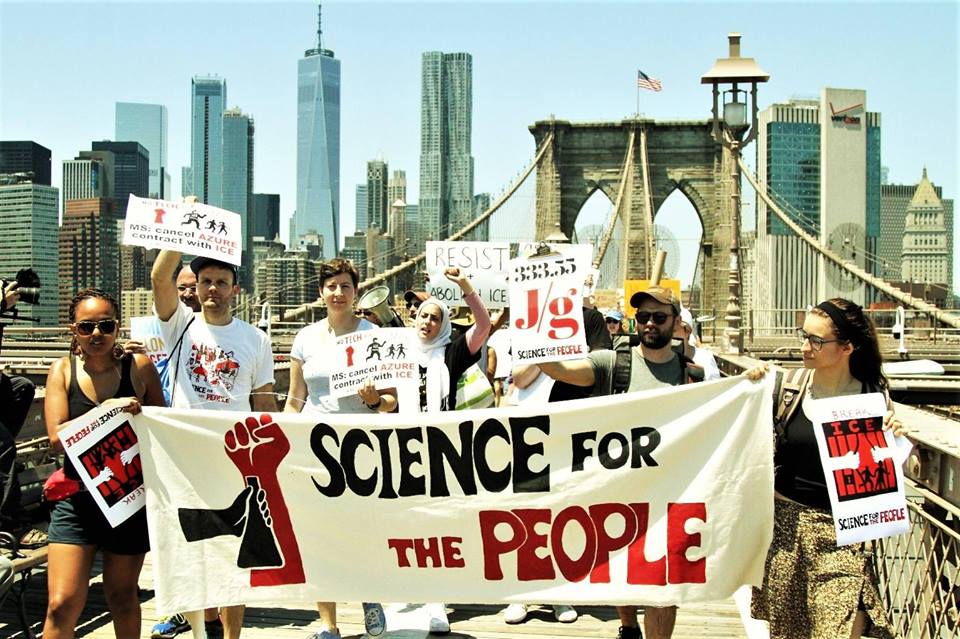 ---
TWIN CITIES
We in the Science for the People–Twin Cities (SftP-TC) chapter have continued to explore our capacity as a home at the University of Minnesota and in the broader Twin Cities community for organizing around the intersections of science, social justice and transformative change. We have members who are active in many different organizing spaces on campus and off, which has contributed to engagement and sponsorship by SftP-TC group members with community events and actions on a weekly basis.
In January of this year, we organized a group of 50+ scientists and allies to show up to the Governor's office with the message that failure to stop the proposed Line 3 tar sands pipeline is equivalent to climate denial. The Line 3 pipeline is a major tar sands route that is now at the center of the struggle for human survival against the profits of a dying fossil fuel industry. In April we are planning a teach-in aimed at scientists entitled, 'Beyond Business as Usual: how to engage in climate activism as a scientist'. We hope this is the first in a series of conversations aimed at empowering scientists to take social and political action in general, and on climate change and the Line 3 pipeline specifically, as part of their responsibility to human society. More broadly, we are continuing to work in collaboration with a broad group of affinity groups in Minnesota around climate action, decolonization, and water protection.
We recently started a Green New Deal working group within SftP-TC, and are beginning to network with youth and other groups who have introduced legislation for a Minnesota Green New Deal. Our early focus has been on addressing the need for climate action and transition in agriculture, inspired by SftP-TC member Doug Gurian-Sherman's work with colleagues nationwide on an agricultural platform for the Green New Deal.
We have also been organizing a series of workshops titled "Reconstructing Our Storytelling of the Sciences", which centered on storytelling as a transformative way of engaging science and scientists with social justice and multiple ways of knowing.
The Twin Cities chapter continues to operate with an informal governance structure that prioritizes community building. We have moved to weekly meetings, facilitated on a rotating basis by group members.
Contact:
Email: scienceforthepeople.twincities@gmail.com
Website: twincities.scienceforthepeople.org
Facebook: @SftPTC
---
WESTERN MASSACHUSETTS
The Western Massachusetts chapter is an eclectic and dynamic group with a core of about ten people who regularly participate and about seventy people on the mailing list. Our greatest strength lies in the diversity of experiences and perspectives we bring to the table, along with the many exciting intersections in our interests. We include community organizers, research scientists, historians of science, teachers, and students/recent alums—and many of us fall into more than one of these categories.
We meet weekly, rotating between the campus of UMass Amherst and the offices of Arise for Social Justice, a gras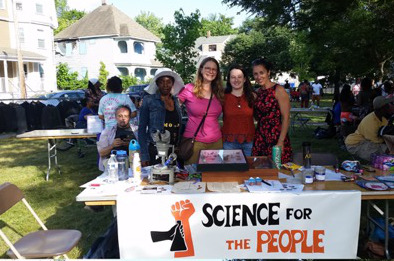 sroots organization in Springfield. This allows us to be plugged into multiple communities and facilitates coalition work, for example with the Springfield Climate Justice Coalition. Public events in 2018 included a book talk at UMass with political agroecologist Jahi Chappell, a community discussion on mold, housing, and health at Arise, tabling at two neighborhood gatherings in Springfield, and a radical science short film share fest.
Many of our meetings include discussion of an article, short story, or video. In addition to reading some of the articles on geoengineering from the new SftP magazine, we often discuss materials related to geology, agro-ecology, space exploration and the militarization of space, and science fiction. We have future plans to continue exploring these and other issues.
Our most sustained campaign to date involves raising awareness and effecting change on the problem of mold, housing, and health—mold is a major factor in the high rate of respiratory illness in Springfield. At the center of this campaign is SftP member Tatiana Cheeks, a Springfield mother who has developed much expertise on the subject as she fights the mold that has caused her son to suffer respiratory illness in their rented apartment. Locating our meetings at Arise has provided many opportunities to learn from community organizers working directly with homeless people and tenants of slum-lords, making our understanding of mold contamination broader and more socially and politically informed.
The other big project that we've taken on is a "Science and Social Justice" workshop for K-12 teachers, which was held in April 2019. The workshop explored the connections among knowledge of self, knowledge of society, and knowledge of nature. Participating teachers received professional development points or graduate credit. Specific topics covered included environmental justice, working with community experts, integrating social studies and language arts into science curricula, and trauma-informed somatic practices to build active listening and leadership potential in youth. We provided concrete examples and resources, guidance on fulfilling Next Gen Science Standards, and time for participants to develop and workshop individual plans for innovative curriculum units. The workshop materials have been posted to our website so they can be useful to people in other places as well.
Contact:
Website: westernmass.scienceforthepeople.org
Facebook: @WMassSftP