March 8, 2021
The Graduate's Inbox
By Isobel Duxfield (words) and Oliver Marr (artwork)
---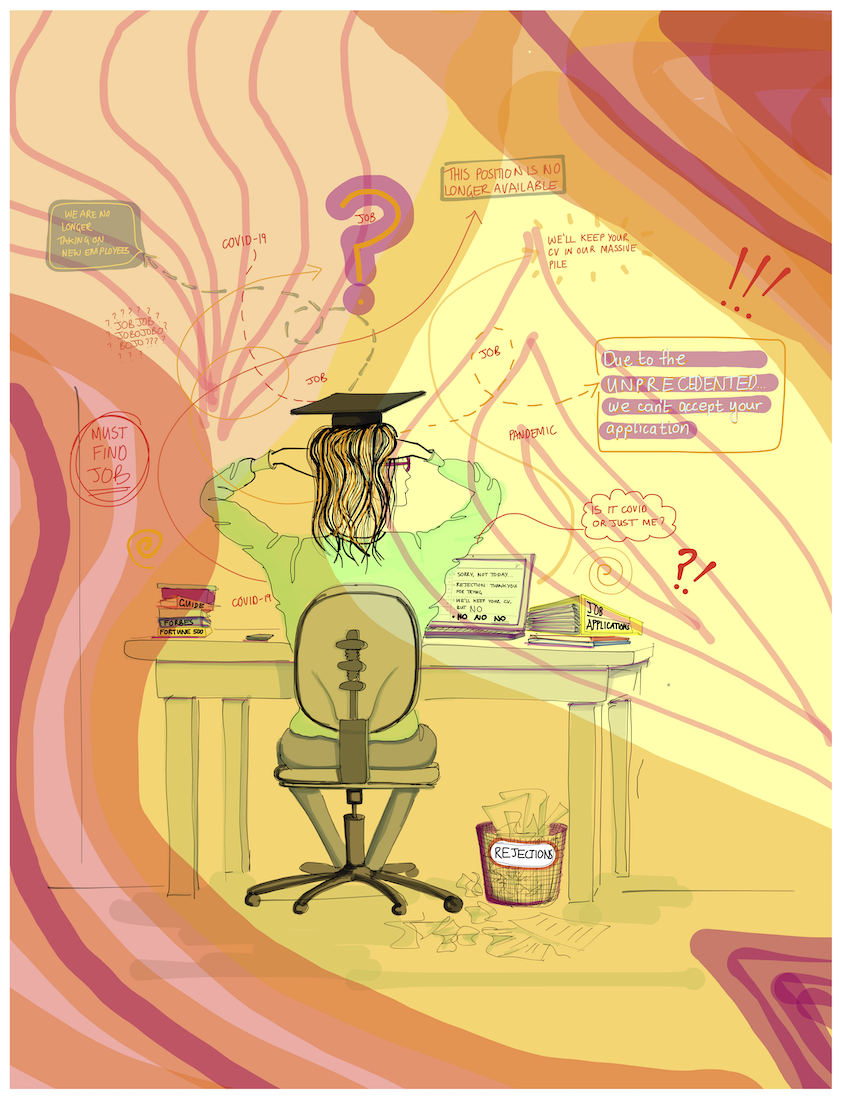 Thank you for your application
However, taking all into consideration,
We regret to inform you that this time
You're not even past the starting line.
In fact, due to circumstances unforetold,
All recruitment has been put on hold.
We appreciate your interest and endeavour,
The hours you slaved on that cover letter.
*
After 'unfortunately' you probably stopped reading,
It will end with something totally misleading:
Like, 'Keep an eye on our latest openings',
And other futile conciliatory things.
*
Hi, your campus career service here!
Still looking for a job this year?
Your student debt is escalating,
And savings fast depreciating.
Your mates have all found employment,
Give up now! Avoid disappointment.
Try these three tips to get ahead,
That you can do while sobbing in your bed.
These vacancies may too assuage,
Yes, half are below the living wage,
But at this point can you afford to choose?
Haven't got that much to lose.
*
Greetings! An invitation to interview,
Does 7am work for you?
First, please complete some simple tasks,
No outrageously inordinate asks.
5,000 words on why you would make
Our desired candidate.
Following this, we request
You complete the numerical resonating test.
While you're at it, redraft the UN resolution,
Providing a viable two-state solution.
Shouldn't take long to work through,
As if you've got anything else to do.
*
Hi, aware its months since your interrogation,
I'll ignore our poor communication.
Anyway, bad news, I'm afraid,
The shortlist, again you have not made.
Our mission you seemed to understand,
However, you did not show passion for the brand.
We will keep your C.V. here 'on file'
Beneath an ever-mounting pile.
We might perhaps be in touch
But don't hold your breath too much.
Apologies for leaving you in the lurch,
Good luck with your continued search.
—
Isobel Duxfield works for European sustainability forum, POLIS Network, and is a freelance journalist and "poet" (air quotes intended). She received her MA in Multi-Disciplinary Gender Studies from Cambridge University, and writes about environmental and human rights issues.
Oliver Marr was born in South Africa and recently received his MPhil in Sustainable Development from the University of Cambridge. He is currently based in London working as an artist focusing on the relationship between nature and the built environment. He is also a freelance illustrator and has experience in sustainability consulting and the circular economy.