Practicing STEM Capitxl with an Out-of-School-Time Youth Program
By Shannon K. McManimon, Choua Her, and Joseph Adamji
Volume 22, number 2, Envisioning and Enacting the Science We Need
Imagine a place where social constructs are wiped away: gender, ethnicity, sexuality, age, class… Instead of these societal paradigms holding you back, you are embraced from the moment you enter the space. Imagine a staff willing to work with you at whatever understanding of STEM you come in with and make it their personal goal that you leave with even more knowledge but also make sure you feel empowered to accomplish whatever life and career objectives you have for yourself… Imagine how empowering it is, especially as a young person, to be put in leadership roles where your voice is not only valued, yearned for, but more importantly, implemented. Imagine your supervisors also becoming your mentors; people you can call upon for life advice, ideas or just to talk to… [I]magine all those aspects being integrated into an after-school program for middle/high school students, with a college/alumni extension, that's housed at your local Science Museum. Oh and I missed a big part, IT'S FUN!1
Shiranthi Goonathilaka wrote this journal reflection in 2017, after years of being both a youth participant and an adult staffperson in the Kitty Andersen Youth Science Center (KAYSC) at the Science Museum of Minnesota (SMM). Goonathilaka started at the KAYSC when she was twelve years old and "had a disdainful taste for anything STEM-related," not knowing that "loving STEM was going to be part of my identity and that the KAYSC was going to become my second home." Her reflection invites us to imagine changed narratives.
Through its "STEM Justice" model, the KAYSC works to change narratives around science, technology, engineering, and math (STEM), and how people relate to STEM.2 In this pathway program of out-of-school-time learning, work, and leadership experiences, girls, young people from low-income households, and youth of color are supported by adults who come from their communities. They are empowered to advocate for themselves, and to apply STEM knowledges and practices to address societal disparities and to dismantle systems of oppression.
We, the authors of this article, are participants in a research-practice partnership studying this model through the lens of science capital.3 In this article, we explore how we moved the theory of science capital4 into practice, renaming science capital "STEM capitxl" to serve the needs of a program whose aim is mobilizing STEM as a tool for social justice. After introducing the KAYSC and outlining its STEM counternarratives, we share how our research-practice team articulated an understanding of STEM capitxl and what it looks like in practice. In pushing theory to be both practical and contextual, we are envisioning and enacting culturally sustaining5 STEM practices.
About the KAYSC
The KAYSC's mission is to "empower youth to change our world through science." The KAYSC places young people's talents and humanity at the center of work to address societal disparities. Through fostering twenty-first century individual and workplace skills, it aims to build equitable pathways for economic and community empowerment. In the KAYSC, young people are leaders empowered to advocate for themselves, to question traditional structures of power, to reject and dismantle systems of oppression, and to place communities above individuals in advancing economic opportunities for themselves and others.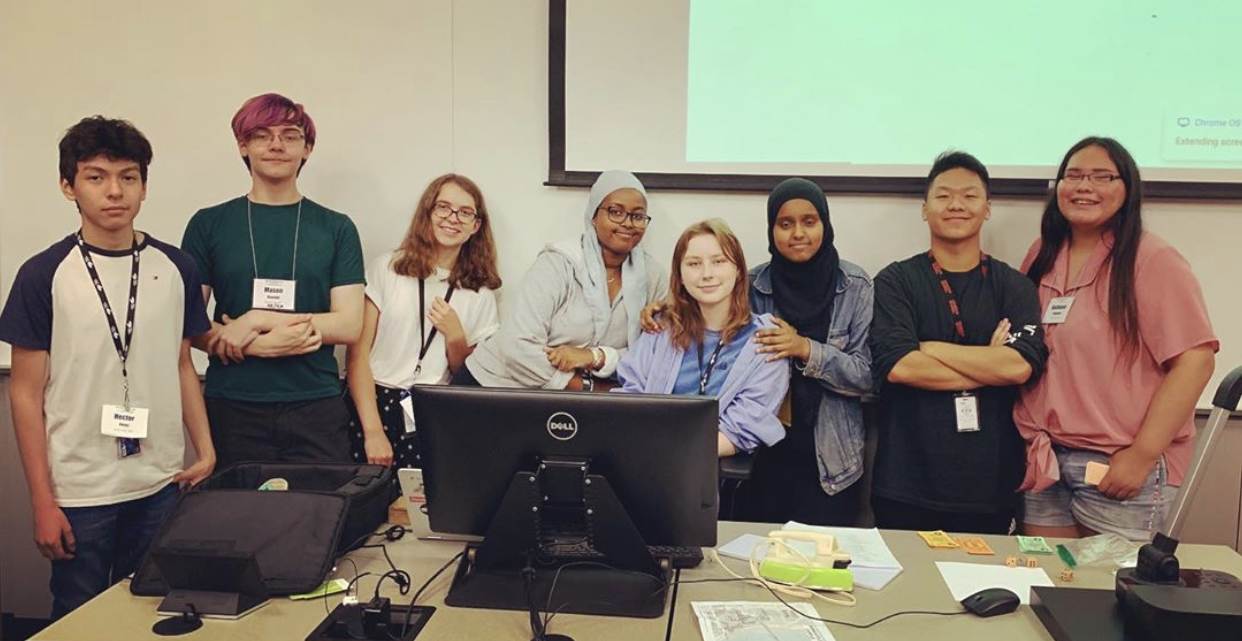 In the KAYSC, young people (from kindergarten through early adulthood) learn through a framework called "STEM Justice": a movement to redefine STEM as a tool for dismantling systems of oppression and constructing collective liberation. Bringing science and social justice together also means transforming the (status quo) culture of science to be more holistic. In other words, the KAYSC argues that we need to redefine STEM to engage Indigenous and non-western ways of knowing and to recognize that all people, even scientists, have bias. Core to the STEM Justice strategy is working to advance efforts to change systems while also navigating existing systems that are often exclusionary or discriminatory. In so doing, the STEM Justice movement addresses dominant cultural worldviews such as white supremacy, capitalism, and patriarchy, attempting to shift from cultures of oppression (or those that fail to specifically address injustice) to cultures rooted in justice. This work positions STEM as a pathway to multiple careers; it encourages young people to take active roles in preparing for the workforce and in shaping workplace cultures they will be entering; it addresses systemic policies that perpetuate social injustice and pervasive economic disparities that affect our communities; and it argues for the need to incorporate the voices of young people prominently in community building and workplace organization and culture.
Obviously, this work cannot be done in isolation, and so the KAYSC is an active partner within an ecosystem of interdependent sectors that must work together to address educational and economic disparities within our society as well as within workplaces, including the museum itself. While the experience of young people remains central to the program, the KAYSC works with other key stakeholders including the broader Science Museum of Minnesota, industry and workforce partners, community-based efforts and organizations, and other learning settings, formal and informal. The KAYSC's work includes challenging dominant narratives about science within this broader ecosystem.
Redefining Science; Reclaiming Narratives
Western views of science have centered ideologies and practices that highlight a particular (stereotyped) account of what is considered "science": think male, white, formally educated with particular academic degrees, objective, white lab coats. This narrative limits opportunities for alternative views to coexist alongside the "scientific enterprise." The KAYSC is challenging this status quo. Instead of accepting these narrow understandings, the KAYSC is redefining STEM, not only to expand upon conventional understandings of what it means to do science and to identify with science, but also to reveal, challenge, and deconstruct structures and systems that reinforce and perpetuate these dominant views. Recognizing how the concepts of science and STEM have been used historically and today to justify and reinforce oppressive social norms and conditions, KAYSC staff are intentional in their approach to working with young people. Through a combination of activities, projects, discussions and reflections, speakers, and field trips, young people and adults are encouraged to bring in and share experiences from their own lives. Rather than science being something only for credentialed experts with certain degrees and specific class, gender, racial, and other identities, the KAYSC narrative about STEM has the following messages:
STEM is for everyone, not just a select few; everyone has the ability to do and relate to STEM.
STEM is more than just a pathway to a career or to make money; scientific skills, practices, and knowledges can be applied in multiple careers and life experiences.
There's more than one way to do STEM.
STEM is in everything, big and small.
This framework challenges another common STEM narrative: that peoples of color and Indigenous peoples as well as girls/women are "underrepresented" (or "underperforming") in STEM classrooms and careers. According to this narrative, our goal should be to expand representation and the economic benefits of STEM careers. But if the greater earning power possible in STEM fields and/or an expanded diversity of voices are put in the service of STEM that harms individuals and communities (e.g., contributing to climate change, environmental destruction, species die-offs, erasure of community-based knowledges and languages, and widening gaps in access to services such as health care), this works at cross-purposes to the goals and values of the KAYSC. Rather than focusing on statistical (under) representation or potential individual earning power in STEM, the KAYSC presents a counternarrative centered in justice that articulates the why: fostering STEM skills, knowledges, and identities as tools in the service of social justice and community wholeness, connection, and healing.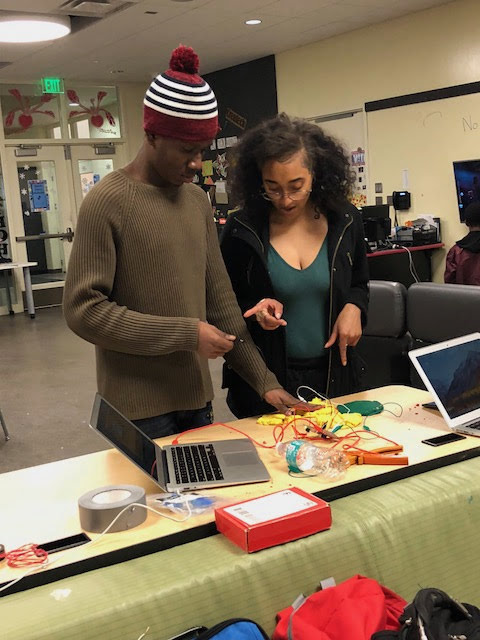 "Science Capital" Becomes "STEM Capitxl"
How does this happen? Expanding upon Bourdieu's work on the forms of capital, the theory of "science capital" attempts to capture multiple aspects of science learning and application, such as "science-related qualifications, knowledge/ understanding, interest, literacy, and social contacts."6 This work acknowledges longstanding and deeply entrenched gender, racial, ethnic, and social class inequalities affecting participation in science and interest in schools and workplaces. The theory aims both to explicate these mechanisms and to encourage strategies for greater inclusion and participation, understanding that "resolving these inequalities is not just a matter for science—it is a concern for all of us."7 From the perspective of a researcher, the theory seemed to fit the KAYSC's intentions. It seemed to be a tool we could engage to analyze and enhance the ways in which the KAYSC is fostering relevant science knowledges and practices in young people's lives, a framework useful for enacting the KAYSC's vision of STEM Justice.
However, KAYSC practitioners were uneasy. They questioned whether the term (science capital) was too close to "capitalism," prioritized the individual over the collective, conflated people with commodities, or whether it would make the work of the KAYSC less radical. In other words, while academic work on science capital stated a desire to "be a useful and valuable part of ongoing efforts to improve agency, social mobility, and social justice science education work,"8 the theory, from the stance of an informal science learning practitioner, did not seem practical, nor did it seem to explicitly emphasize a justice-based stance. Recognizing the power of language, our partnership collectively decided to rename the theory STEM capitxl.9
STEM is broader than science and more accurately reflects KAYSC content. More importantly, renaming and reclaiming "capital" with an "x" signals an educational process of unpacking and unlearning, documents opposition to systems of oppression, practices code switching, emphasizes the theory's roots in equity and social justice, and reclaims narratives of science outside of narrow Western conceptions. It thus serves as a pedagogical, theoretical, and practical tool.
Every time one of us, practitioner or researcher, talks or writes about STEM capitxl (pronounced "STEM capital with an x"), we get questions: did you mean to spell that with an x? What does that mean? This provides opportunities to explore the idea and its relationship with STEM Justice— STEM as a tool to counter systems of oppression—even further.
Theory into Practice: STEM Capitxl in Use
This renaming answers questions of why this work matters and ways the work can be carried out in practice. Crucially, it serves the needs of informal science learning practitioners. Our conversations around STEM capitxl have created common language to talk about KAYSC work across program areas, and have provided staff with ways to articulate its importance to each other and to people in the communities we work with, including other practitioners, science professionals, funders, and more. When creating curriculum, staff can draw on the theory of STEM capitxl for clarity and direction in shaping lesson plans and learning goals that are relevant to young people's lives and communities. These activities encourage reflection, meaning-making, and the development of critical thinking skills so that young people make their own connections between what they see and experience and social justice. Asking how STEM capitxl is being fostered and contributing to STEM Justice can be a benchmark for program outcomes as well as activities. Lastly, while reflecting on their own practice, staff can draw on STEM capitxl to identify areas for professional growth and resources to strengthen their skills and abilities as STEM Justice practitioners.
While this theory assists adult practitioners, more important are the ways in which young people in the KAYSC are building STEM capitxl—in other words, the practices that are enacting theory. We begin by emphasizing that KAYSC young people are currently STEM professionals, as they are paid to do STEM-related work, including at the museum and in community organizations. They already have STEM careers that are fun, that are connected to what they care about, and that encourage them to be leaders in their communities who think critically about the relationship between STEM and social justice.
Science capital theory explores what you know, how you think, what you do, and who you know. Our research-practice partnership has been identifying how these four types of capital (what you know, how you think, what you do, and who you know) are present in the KAYSC, and has been finding ways in which KAYSC programming can foster them even more.10 Examples are useful. For instance, one group of high schoolers explores biology and public health. Recently, they investigated and took action on commercial tobacco. They examined how commercial tobacco companies purposefully target low-income families and the resulting health consequences of smoking. Subsequently, they were part of an organizing campaign to raise the minimum age for purchasing commercial tobacco, including speaking at community public health board meetings. Their work, on a daily basis over the course of this project, engaged what they knew (e.g., science knowledges of biology and health), who they knew (e.g., working with partners such as the Ramsey County Public Health Department and the African American Leadership Forum), what they did (advocating for just practices), and how they thought.
Further, their work demonstrated awareness of the relationship between social injustice and STEM. This is particularly salient in their shift from speaking out against tobacco to speaking out against commercial tobacco. This shift honors the sacred uses of tobacco in Indigeneous communities and educates people who may be unaware of this distinction. In other words, "how you think," inclusive of multiple ways of being and knowing, became central to their work. "How you think" and about what you think were also inextricably linked, as they recognized that social and economic inequities are key contributors to health disparities, and that they are ultimately what must be changed to advance health equity. This meant, for instance, knowing that Black, Latinx, American Indian, and Hmong Minnesotans live below the poverty level at much higher rates (three to five times) than white Minnesotans, and that, while health outcomes have improved, American Indian and African American babies are still dying at more than twice the rate of white babies.11 When a young person recognized that commercial tobacco's advertising targeted low-income families, he connected to these examples of structural racism, all of which are salient in the campaign's effort to raise the minimum age to purchase commercial tobacco so as to improve public health outcomes. This sophisticated work is STEM capitxl in action.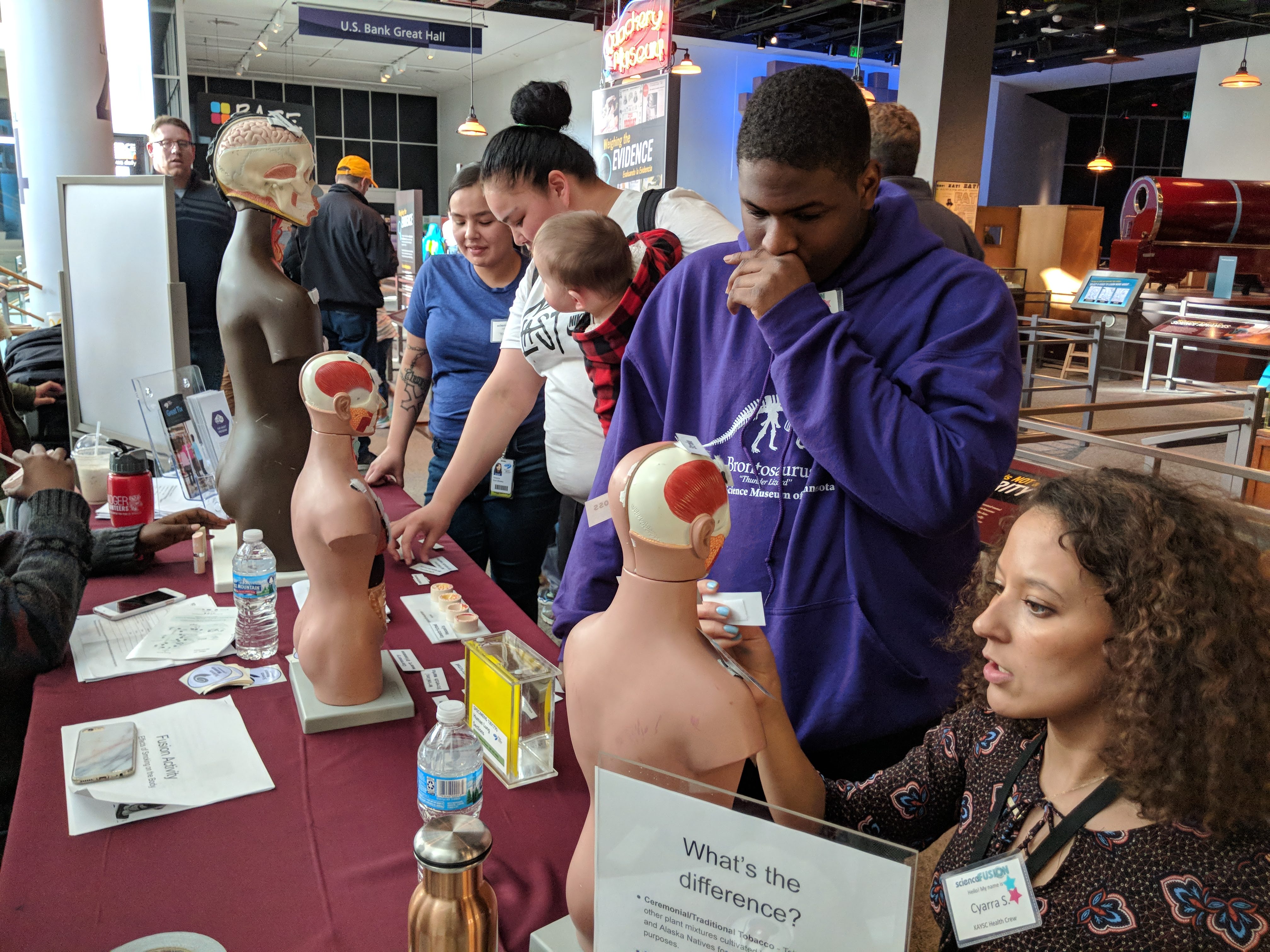 In another example, a group of high schoolers whose work focused on media and technology partnered with the city of St. Paul to increase access to technology for young people. They founded Createch, creative spaces nested in five branches of the Saint Paul Public Library, where community young people could hang out or use technology stations or activities. The KAYSC young people also led monthly workshops for children and other young people on using creative technology.12 Like the previous example, their work engaged the aspects of science capital (what you know, how you think, what you do, and who you know). Because of the consistent connection to social justice woven into their work, this was an instance of STEM capitxl.
The group was intentional, not just in increasing awareness about technology, but also in increasing access to it. This presumes a knowledge of who is least likely to have opportunities to access technology and why, linking the work to more than just presenting STEM content but also challenging what serves as a gatekeeper to STEM content and, further, taking action. In this instance, what the KAYSC young people knew (regarding technology and systemic barriers to accessing it) and how they thought (technology should be something everyone can access; people should be able to choose what technology interests them) shaped what they did (offered free choice technology-focused workshops/activities in specific, localized community locations) with who they knew (Saint Paul Public Libraries).
STEM Capitxl in Action
The KAYSC feels different. Entering the space, you might hear young people freestyling about the element iron, with a background beat created by another KAYSC participant. Or see young people problem solving how to facilitate a design activity on the museum floor. Or hear young people talking with neuroscientists about the brain. On the museum floor, you might hear young people playing drums and talking about rhythms and sound waves. On a city sidewalk or at a library, you might notice community members using the Frogtown Food Access Map, a mobile device app for learning about and finding healthy food resources in their St. Paul neighborhood. In all of these spaces, young people demonstrate what they know and how they do STEM; they connect with those who engage in STEM practices for a living (a career) or for life (cooking, working on engines in the backyard); they think about STEM expansively as a tool for social justice.
By transforming a theory about science learning, identity, and interest, the KAYSC and this research-practice partnership are enacting science for the people: theory and practice in service of social justice. This work situates theory as useful and practical, as part of everyday work and practice, rather than something kept in books and journal articles and accessible only by a few with specific credentials. As the product of a participatory research project, it models a more equitable and applied approach to research. It serves as a pedagogical, curricular planning, and evaluative tool for educators, modeling practices important to STEM for social justice, such as asking questions, challenging injustices, and centering equity. In this work, we don't have to only imagine young people as leaders, multiple ways of understanding science, intergenerational relationships, having fun while learning, researchers and practitioners working together toward social justice. While sometimes uncomfortable and often overwhelming, we are, every day, practicing our imagination of STEM Justice.
About the Authors
Shannon K. McManimon, Choua Her, and Joseph Adamji are three of the co-principal investigators on the NSF-funded STEM Justice: Building Youth Science Capital, based at the Science Museum of Minnesota (SMM). They are grateful to their youth and adult colleagues with whom they work on this participatory research project. Her is an Evaluation and Research Associate at SMM, committed to addressing issues of equity, privilege, and power to build the capacity of communities to thrive. Adamji serves as the Director for the Kitty Andersen Youth Science Center, which empowers youth and trains educators through its STEM Justice approach. McManimon is an assistant professor in Educational Studies and Leadership at the State University of New York at New Paltz, focusing on equity-based teaching and learning in formal and informal settings.
References