August 23, 2020
Their Money, Our Lives
By Joseph L. Graves Jr.
---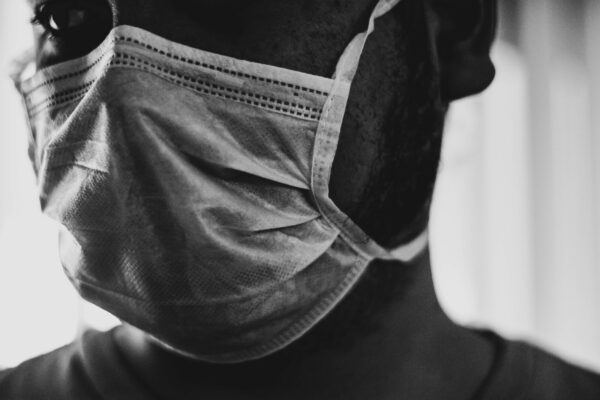 In March, before data were available, I anticipated disparate rates of COVID-19 infection and death would be observed in African American communities in my interview on Roland Martin Unfiltered.1 Sadly, this prediction was borne out. By July 2020, data on COVID-19 showed that 22 percent of those who died were African Americans, despite only being 13 percent of the US population.2 On July 5, 2020, The New York Times reported that the incidence rates for African Americans and Latinos were 2.7 and 3.2 times greater than that for European Americans,3 respectively.
As the numbers of cases and deaths continue to grow in the US (5,551,793 cases and 173,490 deaths as of August 21, 2020), we have no means of accurately assessing the differential race and class impacts of the pandemic. The Harvard GenderSci Lab released a report card on COVID social data, reporting by state, on July 14, 2020, and found that a majority of African American and Latino communities live in states with the worst grades.4 There is also the potential for a growing lack of information concerning COVID infection prevalence, as the Trump Administration announced that it was going to take charge of COVID data. There are already reports that data concerning the pandemic have "disappeared."5
Genetic predispositions for COVID susceptibility do not explain the observed differences in infection and death rates for racially subordinated Americans. No population differs significantly in human leukocyte antigen (HLA) variants predisposing it to either greater or less resistance to this virus.6 The most recent genome-wide association study (GWAS) that examined greater likelihood for more severe COVID symptoms identified a variant of Neanderthal origin in patients from Spain and Italy.7 Eurasians have at most 2-3 percent Neanderthal ancestry, and African Americans only have this origin due to the fact that 16-18 percent of their ancestry is from Europeans.8 Thus, this group is even less likely to have a Neanderthal risk variant. Consequently, the COVID disparity does not result from genetic predisposition between socially-defined races.
Indeed across the history of enslavement, persons of African descent have suffered from differential rates of death from both complex and infectious disease. These differentials do not result from genetic polymorphisms favoring persons of European descent, indeed as I have explained elsewhere Africans actually display fewer deleterious variants in their genome compared to Europeans. Furthermore in many cases associated with genetic risk of disease (such as hypertension or Yellow fever), Africans have higher frequencies of protective variants but still display greater prevalence and mortality.9 Thus this pattern of differential mortality and morbidity does not result from genetic foundations, but rather due to the racially-subordinated condition of African Americans and Latinos under capitalism.
In addition, transmission of this virus strongly depends on individual proximity. Disease transmission occurs via droplets released from infected persons who cough or sneeze. The virus may also be airborne, as asymptomatic individuals may also transmit the virus.10 The main ways of preventing transmission are social distancing and mask wearing. However, the capacity to social distance significantly depends upon one's occupation and where they live. During the initial spread of the virus in Asia, differential infection occurred among workers in healthcare, tourism, retail and hospitality, transport, security, construction, and cruise lines.11 High-level business executives also played a crucial role in spreading the virus globally.12 In the United States, workers in essential industries, such as meat-packing plants, were particularly vulnerable due to the inability to social distance in the plants.13 Furthermore, the country, as a whole, was completely unprepared for the pandemic due to a lack of protective personal equipment for healthcare workers and inadequate COVID testing capacity.14 This could have been avoided, as scientists had been warning of the potential for such pandemics for well over fifty years now.
COVID-19 is drawing into sharper focus the historic disproportionate burden of sickness and death shouldered by persons of non-European ancestry in the United States. African Americans and Latinos have always been vulnerable to infectious diseases due to racist public policies. Their segregation into high density, low environmental quality neighborhoods was driven by racialized economic policies, including discriminatory lending, insurance, and real estate policies. Furthermore, in the 1980s, neoliberalism fostered the polarization of the workforce into high- and low-paying sectors, where those with greater access to education and inherited wealth were more likely to be employed in high-paying sectors (which were also disproportionately European and Asian Americans). Those with less access to these resources (African Americans, Latinos) were more likely to be forced into low-paying sectors and the structurally unemployed.15
Structural unemployment is associated with socially-defined race in the United States16 and is often correlated with poorer nutrition, housing, and healthcare as well as increased exposure to violent crime. There are also unacknowledged effects, such as the documented increase in mental illness rates among African Americans due to structural unemployment.17 Now, on the other end of the scale, as record numbers of Americans are losing their jobs or furloughed for an indeterminate period, billionaire wealth has increased by 20 percent during the pandemic.18
Efforts to address the vulnerability of racial/ethnic minorities, incarcerated persons, and nursing home residents to the coronavirus in the United States should have been implemented from the start of the crisis.19 The government took no action to address this until the horses had already left the barn. There has been much discussion about the actions of various politicians (for example, Donald Trump) failing to provide sufficient leadership to move the nation out of the pandemic.20 However, Trump, as dangerous as he is, is not the primary problem—it is capitalism. Indeed, during this pandemic, the death of George Floyd (and earlier heinous acts of injustice against persons of African descent), was actually correlated with a rise in the stock market.21
It is said that adversity does not change character, it reveals it. This adage is usually applied to individuals, but it works just as well for discussing social systems. Marxism claims that capitalism was progressive in regards to increasing productivity of labor at its onset in the sixteenth-century. European workers benefited from the end of feudalism and the increased potential productivity of the capitalist system.22
However, this came at a tremendous cost to non-Europeans, as those of you familiar with the works of Walter Rodney recognize.23 By the twentieth-century, capitalism had become fully reactionary, and its social dynamic was designed to produce wealth disparity. In 2013, the top 10 percent of families in the US held 76 percent of its wealth, while the bottom 50 percent of families held only 1 percent of US wealth. The average European American family owns ten times the wealth of the average African American family. So long as capitalism is our economic system, these outcomes cannot be reformed.
The public health implications of wealth disparity are apparent. Historic and current mortality rates of African Americans are greater than twice those of European Americans for both chronic and infectious disease.24 In a country whose ruling class does not believe that all citizens should have medical care as a right, the bottom stratums of the US population will always be vulnerable to infectious disease. Since that reservoir of disease will always exist, those in higher socioeconomic groups will also be vulnerable. While the most wealthy persons will always have the option of social distancing, they won't be able to maintain social production and distribution of either agricultural and industrial goods if workers are not at their posts. Thus, the calls for "reopening" the economy are proceeding in the US in opposition to the epidemiological data and the concerns of workers who will be differentially exposed to infection risk.
The position of the US government on who matters most during the pandemic is made clear by their legislation. In March 2020, the US Congress passed a coronavirus relief package (CARES Act). The bill provided $560 billion for individuals (in the form of a $1,200 check for people of middle to low income), $500 billion to large corporations, $377 billion for small businesses, $339.8 billion to local and state governments (primarily to keep essential services running), and $153.5 billion for public health.25 However, the bill included $135 billion in tax breaks for millionaires, an amount three times that included in the bill for emergency food and shelter relief.26 This money came from deficit spending and, if ever repaid, will most likely come from taxes on middle and working class people. This is corporate welfare, the general rule of the US government's neoliberal behavior.
To be clear, not all capitalist governments have performed as poorly as that of the United States during the pandemic. Canada and the European Union were able to significantly reduce transmission of COVID-19. Similarly, China (with significant amounts of private ownership in their economy) was able to bring the pandemic under control. I would argue that, in those nations, it was the socialist elements of their economies that allowed this to happen, specifically the substantial regulation of their industries.
Yet, in the United States, there is both a history of deregulation of capitalist enterprise combined with a deep history of racism that prevents quick control of the pandemic. Worse is the fact that the conditions of capitalist production, specifically in agriculture, have accelerated the conditions that breed antimicrobial resistance in bacteria and viruses. Specifically, the growth of livestock at very high density and the use of antibiotics to increase livestock yield are ready-made conditions for pandemic outbreak.27 The United States has already been identified as the possible starting location of the 1919 influenza pandemic. While being called the "Spanish flu," it most likely began in Kansas and went to Europe with US troops during the First World War.28 Under these conditions it is guaranteed that we shall experience more pandemics!
Therefore, I predict that the continuation of capitalism is a guarantee of human extinction, whether by pandemic, or some other evil (that is, war, genocide, pollution, climate change) that this system's dynamics will produce. I am not alone in this assertion.29 Thus, the lesson that we must learn is that our future survival as a species requires that we dismantle global capitalism and replace it with a social economic system that puts human needs in front of profit. However, we should not assume that the process of dismantling capitalism will necessarily result in an anti-racist society. This did not happen in China. Even during the revolutionary years, racist ideology flourished there, and it has gotten progressively worse since the restoration of private enterprise.30 Indeed, without a resolute struggle for anti-racism within the United States, the American working class will never succeed at developing a political movement that can really act in its own interests.
Afterward
On July 27, 2020, information became available about the composition of the participants of the phase 1 and 2 trials of the Moderna and Oxford University/British Swedish AstraZeneca vaccine trials. The composition of the subjects tested was 89 and 91 percent "white" (persons of primarily European ancestry).31 Both companies reported "positive results," but there were some side effects. The problem with such a trial is that we cannot predict how effective this vaccine will be for non-Europeans in stimulating COVID immunity. Most likely the vaccine will work for everyone, but most worrisome is the inability of such a study to predict potential side effects in non-Europeans. In fact, scientifically, this sort of testing is backward. As Africans contain far more genetic variability than any other human population, the vaccine would have been better tested in subjects that were disproportionately African. The fact that securing a representative population of test subjects was not achieved in this case, is more indication of the confusion and lack of concern about human biological diversity that predominates the biomedical research community. Indeed, years ago when I raised this theoretical concern with the CEO of a major biotechnology firm, his response was: "Africans don't buy drugs."
Editor's Note: An earlier version of this article cited a different value for the CARES checks sent out to American citizens. This has since been corrected.
—
Joseph Graves Jr studies the genomics of adaptation with special reference to life history evolution and antimicrobial resistance. He has also authored numerous papers and books on biological and social conceptions of race. He has been a member of Science for the People since 1980, beginning in the Ann Arbor chapter. He has been a leader in redressing the underrepresentation of racially subordinated people in science careers, directing successful programs in California, Arizona, and North Carolina.
---
References