The Elitist Trail
By S. Rupsha Mitra (words) & Sam Davies (artwork)
SftP Online
September 1, 2021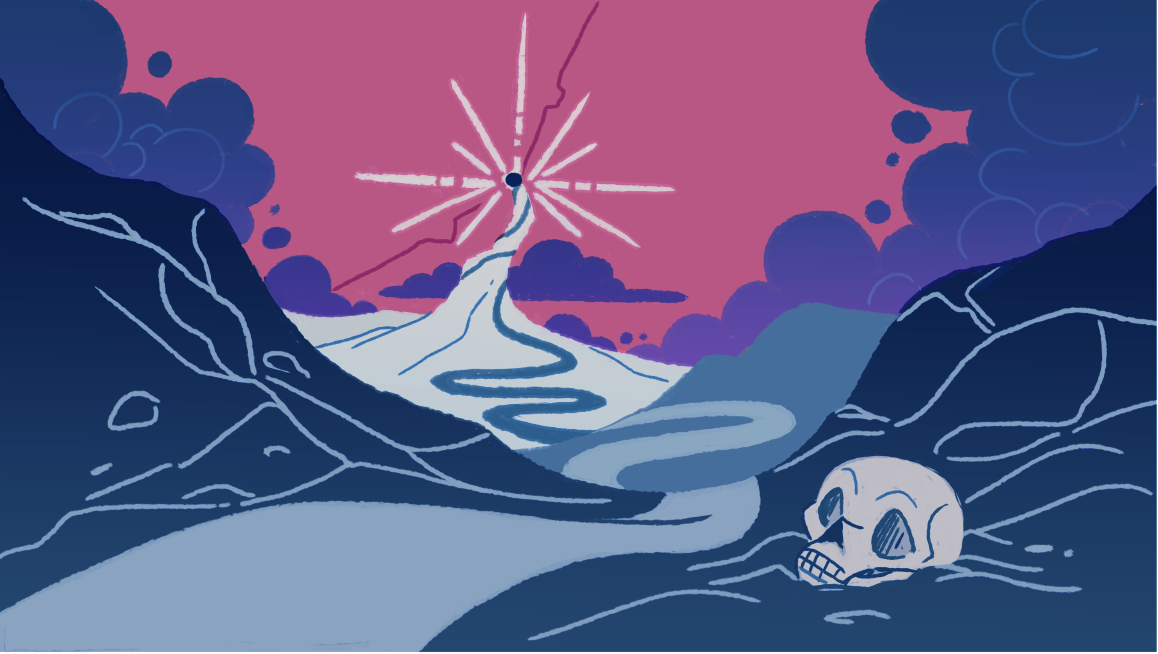 It originates somewhere you don't even recognize. Dungeons buried in the past, all self-proclaiming
stereotypes in aeons — conditioned so well that you consider
it fair and right and why not equal.
It is that high school winter that you learn at your fest — the chasm, the indifference
of not being the bourgeoisie, at the Peak of the scale. That sidelining at the party,
those recurrent arrogant words burbled like silk-smooth mantras,
peppered, in pinches of salt, that invoke in you, the deficiency, of not being
an eloquent English speaker. Those rude identifications of
your faulty grammar. It all happens unconsciously, everything
in the hemisphere that
evokes less
awareness, makes us
believe that this is how things should be, that obnoxious
inclination towards believing in the discrimination as
something sanctimonious, a love for this
weird social bottleneck theory, eliminating
all stimuli other than what is the "desirable,"
"affluent." It's just normal how women are
being pushed in the corners, everytime
there is a call out for equality, There is
always an imposing structure of the
imagined falsified meaning, an
excuse why it is just nothing
else but just justice.This elitist
legerdemain that burdens all,
these leading voices that fail to recall
the mesh work of racism in
the workplace, in the crux,
in the roots. In this so-called
level playing field. And
sameness repeats, over
and over The elevated
mounds continue
hiding the realities,
There appears a
Marie, everytime
From history
disregarding starving
people, as the
top–down
model continues.
About the Author
S. Rupsha Mitra is a Psychology honors undergraduate based in Kolkata, India. She is a finalist in the Voice of Peace: International Poetry And Short Story Anthology Competition 2021 organized by The League of Poets. Rupsha's work has appeared in the Mekong Review, Indian Literature, and Muse India.
About the Artist
Sam Davies is a freelance illustrator and comics artist working in the UK. She has created children's graphic novels and is currently working on a collaboration with the University of Southampton using comics to explore autistic young people's experiences of transitioning from primary to secondary school.
Editors
Emily Glaser (Lead Editor)
Sonja Soo (Co-Editor)
Ashley Bennett (Technical Editor)
Claire Ramsay (Copy Editor)
Søren Hough (Web Editor)
Søren Hough & Matt Moss (SftP Online Editors)