The Thermodynamics of Comfort
By Deanna MacNeil (words) & Sam Davies (artwork)
SftP Online
June 7, 2021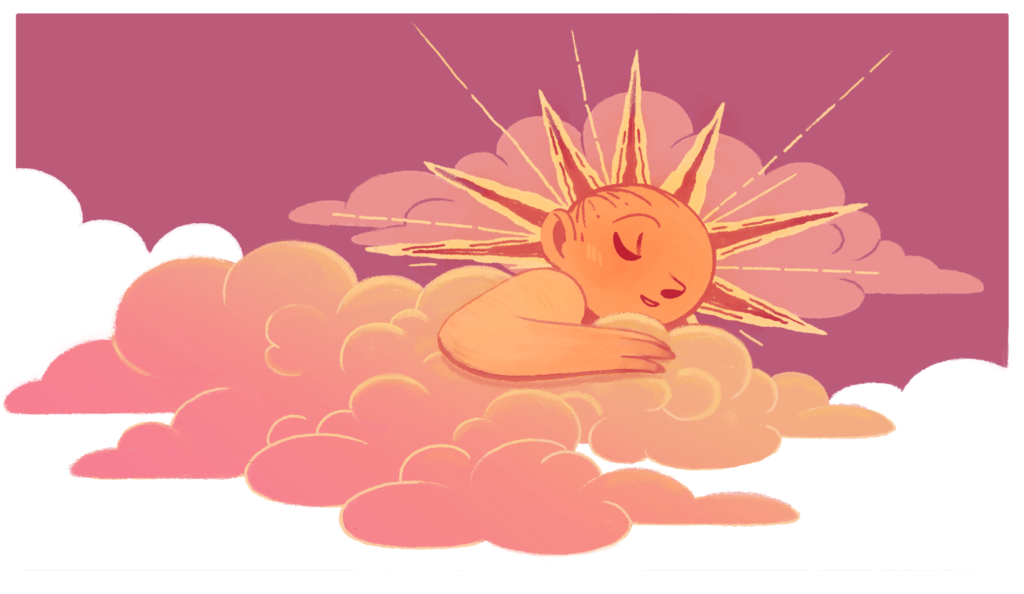 There is an alley across the way
that leads directly into the afternoon sun.
Sometimes I will walk it
straight as far as it will take me
in search of the comfort that accompanies the agreement
between the laws of the universe and me.
A pancake direct from the pan
or the heaping pile of clean laundry
fresh from the drier
fulfills the accord.
The way the beach sand
goes from scalding to toasty
as the sun is setting.
Solace amplified
by the orange-pinks of the sky
reflected in the waves.
A cat that graces
a lap with its purring.
A dog tired of the party,
fast asleep atop feet.
The bath drawn to just the right temperature
is a short reciprocation.
So too, the snuggle of the dreamer, deep into the sleeping bag
sure to wake scorching.

How does something ordinary
cocooned in thermal exchanges
become bliss?
Maybe it is the assured reliability
that warmth to spare will be shared
with anything or anyone in need.
Comfort-on-loan
the constant cycle of energy guaranteed,
governed by no one and received by all.
About the Author
Deanna MacNeil is a medical writer based in Montreal, Canada. They received their PhD in 2020 from McGill University. Deanna is a budding science communicator and poet, and a member of the Massive Science Consortium.
About the Artist
Sam Davies is a freelance illustrator and comics artist working in the UK. She has created children's graphic novels and is currently working on a collaboration with the University of Southampton using comics to explore autistic young people's experiences of transitioning from primary to secondary school.
Editors
Emily Glaser (Lead Editor)
Sonja Soo (Co-Editor)
Ashley Bennett (Technical Editor)
Claire Ramsay (Copy Editor)
Søren Hough (Web Editor)
Søren Hough & Matt Moss (SftP Online Editors)